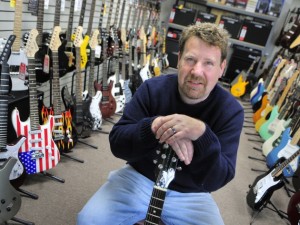 Published June 2, 2010
The case of Sarasota Guitar Company is a textbook example of how to launch a business in a tough economy. First, find a way to provide products for a fraction of your competitor's prices. Next, give your customers everything they could possible ask for, before they even ask for it. And finally, watch the money start pouring in.
Selling guitars out of a 10-foot by 10-foot booth at the Red Barn Flea Market last year, Sarasota Guitar Company owner Scott Cook could never have imagined what his business would look like today. In December he decided to take a chance in a highly unstable economy and opened a 900-square-foot retail store at 4333 South Tamiami Trail, Suite A. Fortunately, Cook was armed with a brilliant concept, which is why last Thursday, less than six months after opening, he moved two doors down to Suite C, effectively doubling his retail space.
Cook's golden idea was to sell factory-second guitars — instruments with small imperfections that guitar companies deem, for one reason or another, unworthy to sell at suggested retail prices. "Basically it's a factory-second with a small blemish on it, and they're cosmetic, nothing physical, so the guitars play correctly," says Cook. "Sometimes we can't find anything wrong with them. But because of that they're saving quite a bit of money — usually anywhere from 50-70 percent off the manufacturers suggested list price."
The trouble with factory-seconds is they typically don't come with a manufacturer's warranty. Enter Sarasota Guitar Company's "Certified Guitar Guarantee." The agreement includes a one-year parts and labor warranty through SGC and offers a 30-day money back guarantee: if you find something wrong with the instrument, or just don't like it for any reason at all, they'll give you a full refund with no restocking fee. "The Certified Guitar Guarantee is a big part of it because music is expensive for most people," says Cook. "We're trying to make it affordable to everyone."
SGC also carries an expanding variety of new instruments by contracting with guitar manufacturers to become authorized dealers. The thing that sets them apart from other authorized dealers is yet another guarantee: if someone finds the instrument at a lower price within 30 days of purchase, they'll give them the difference plus 25 percent of that amount.
Not surprisingly, Cook has found that a little generosity and a dedication to customer goes a long way. "Just to give you an example of how well we're doing, we're actually getting close to selling our 1000th guitar," he says. "It's incredible, it's only six months and I had somebody that read about us on the Internet and came down from Ohio saying they had to visit our shop. That's crazy. … I actually put a cable TV in here thinking when it's slow I'd watch TV. I haven't watched a second of TV. We're probably going to have our biggest month since our opening in December, which is Christmas time. So it really has not slowed down."
Obviously, limbo-low prices and comforting guarantees will bring in business, but Cook says the company's local activism has been a key factor: "We've been involved in the community and that's part of the success too. We were involved in the Noise Ordinance CD, we did some charity work for Darfur with the Jewish Federation and we're going to have the Racing Dog Rescue here during our event."
The event Cook is referring to is a June 12 concert at the new store, being dubbed, "The Biggest Guitar Event in Sarasota History." The guitar extravaganza will feature a handful of local bands, food vendors, manufacturer's reps from guitar companies Dean, ESP and Washburn passing out free merch, and a performance by Michael Angelo Batio, the former guitarist for Nitrate, known worldwide as one of the fastest guitarists in history. His signature move is simultaneously shredding on both necks of his famous double-neck guitar.
The Sarasota Guitar Company's expansion doesn't stop at increasing store size and bringing in international acts. The new location has now become the official headquarters of SarasotaGuitarLessons.com, and they're planning to launch a website next month, much like Musician's Friend, opening up the business to a national audience. And within the next year, they are looking at possibly opening a second location.
"It has exceeded our expectations, definitely," says Cook. "We originally designed the business to do well in this kind of economic climate. Because people still want to buy guitars, they just can't afford to buy the expensive guitars anymore. So we made it more affordable for people. Businesses that offer value are going to do well."
Sarasota Guitar Company, 4333 S. Tamiami Trail, Sarasota, 924-8321 or sarasotaguitarcompany.com, store hours are 10 a.m.-8 p.m. Mon.-Sat., 11 a.m.-5 p.m. Sun.; "The Biggest Guitar Event in Sarasota History," featuring Michael Angelo Batio, 11 a.m.-5 p.m. June 12, call for cost.