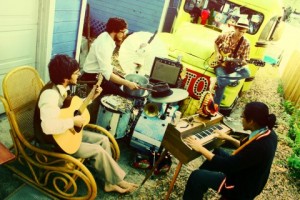 Published Aug. 12, 2011
(Photo: Scott Braun)
In the Green Room with Fancy Rat
"I've always written about serious things taken lightly, because that's who I am as a person," says Fancy Rat frontman Brian Yoder. That sort of light-hearted absurdity is a common sentiment taken from one of the most sung-along-to live acts on the Sarasota circuit. And it's no wonder, as anyone who has popped in a copy of the band's debut self-titled EP (released last year on Finch House Records) is usually driven to impulsive participation not long after the "hee-haws" and "wees" of opening track "Join the Club" begin.
Yoder, along with guitarist Toby Norton, bassist Adam Marret, and beat-boxing tambourine man Dan Demerin, penned most of the band's happy-go-loony tunes sitting on the front porch of their Gillespie Park pad, affectionately dubbed "The Rat's Nest." With infectious slap-happy hooks and silly dance-tastic indie-pop beats, the content of the songs can range anywhere from poignant love-struck heartbreak to adoration of transportation. "Call it synesthesia," says Yoder, "inanimate objects just have a personality."
After going through a rough first year with the departure of French horn player Sarah Mobarekeh and the replacement of drummer Adam Brammer with current skin smacker Josh LaBohn, the band came back strong in 2011 and haven't looked back. "Anything prior to Adam Marret coming in you can pretty much just erase," admits Norton.
Unfortunately, the band suffered another huge blow earlier this summer when Marret (who also served as sound engineer) moved to Pensacola. But trudging on, the Rat rebounded once again, taking on bassist John Ewing to pick up the tab. "It's like any relationship, you have to find a person that gets along with you," says Yoder. "Adding other people is always going to be weird at first, but now it's leveled out and I feel like we have more opportunity musically. In a strange way, it almost has opened things up to have new people."
One thing is for sure, the grin-inducing giddiness of Fancy Rat's live shows is only gaining in popularity. The group's sound is also evolving with Demerin's recent inclusion of violin, which he just picked up less than a year ago: "It's one of those instruments that the moment you feel you've got some kind of proficiency with it, it punches you in the gut and says try again."
But traditional Fancy Rat fans have nothing to fear. According to Norton, it isn't so much the style or energy that's been getting a makeover, but the quality and instrumental balance of the music. "The sound has stayed the same, it's just becoming more clear," he says. "We're learning how to separate the instruments and work together. We listen more." Yoder elaborates: "It's kind of like a big boulder — you just chip away and after a while you start to see what's on the inside."
As the band prepares for their first tour, a 16-day stint up the East Coast to New York and back, they have been humbled by the difficulty of a tough booking process. But just as everything else the world throws at them, the experience has only proved to make them tighter. "This is the first time I've ever seen us come together and work so hard," says Norton. "The level of communication has gone up… I feel like we're actually a band now for the first time, even behind closed doors."