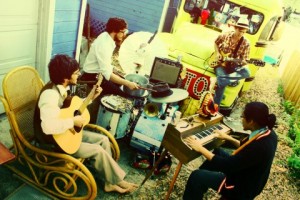 Published June 30, 2010
The latest band to emerge from Sarasota's steam-gaining Finch House Collective started as a rough side project and has now come to fruition as the party-in-your-pants known as Fancy Rat. Frontman Brian Yoder set aside his experimental folk solo project JesusChryslerSupercar to join with bassist Adam Marret (previously of The Silent Film Exhibitionists Club), lead guitarist Toby Norton and drummer Adam Brammer. The eventual addition of French horn player Sarah Mobarekeh and tambourinist beat-boxer Daniel Dean Demerin rounds out one of the most unique original sounds to rise from the local scene yet.
If goofy yet clever is your idea of fun, then Fancy Rat is your new BFF. Their seven-track self-titled debut EP was unveiled at a May 26 release party at the Shamrock, and brings the band's live show, which is quite a sight to behold, to life in all its glory. Marret served as the primary recording engineer during the recording process, which took place at multiple private residences over the past few months. All the CD cases for this self-produced gem were hand-made with love by the members, each complete with fortune cookie-style tidbits of wisdom and random items ranging from small electronic components to used pipes contained within the DIY shrink-wrap.
The chemistry between Yoder's acoustic rhythm riffs, Norton's electric leading licks and Marret's smooth low end provides a skeleton that would seem contemporary but raw if not bulked up with vocal accompaniments of all sorts and covered with a pleasant skin of brass. Demerin, known more as the beat-box filler guy between bands' sets at local shows, adds a highly atypical vocal aspect to the music with everything from record-scratching sounds and primal screams to whistles and tongue percussion. Mobarekeh's French horn brings a serious dynamic to the quirkiness that ultimately permeates Yoder's lyrics. Not that some aren't solemn and earnest, they just don't seem so in the shadow of the music's party-hearty nature, due in part to Yoder's own strained and scratchy singing style.
The opening track, appropriately titled "Join the Club," invites the audience to do just that as the members belt out urban tribal chants of "hee-haws" and "weeees," with random belly laughs thrown in for absurd effect. "Inanimate" starts off with a throat-clearing cough from Yoder, which is later explained in the line, "I love my hat, and my car, and awful cigarettes," all in keeping with the song's theme of inanimate objects that Yoder loves "more than most people love their lovers." The Rat reveals their lack of fear in addressing taboo topics in the tune "Sun and Stones," which begins with a boot-stomping group hymn of "I'm stoned and I'm tired," before shifting into a soaring chorus with Yoder exclaiming, "my eyes are wide open." Norton takes over the mic on "At the Door," another dance-ready head-bopper that shows Yoder isn't the only member capable of writing intriguing, yet undeniably catchy indie-pop tunes.
The album's final track, "Pinocchio," was the band's featured song on the Noise Ordinance CD, and breaks down at the end with yet another all-band shout-along of "I feel I should run as fast as I can until my skinny legs break," a line commonly echoed by the crowd at live shows. Fancy Rat is indeed running with it, and if the first CD is a taste of things to come, we should all hope they don't run too far from Sarasota any time soon.
PHOTO COURTESY SCOTT BRAUN
Check out Fancy Rat online at myspace.com/fancyratbastard.