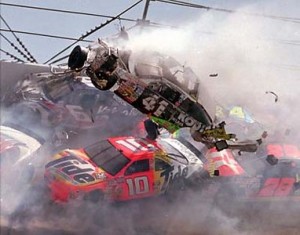 Published April 18, 2011
TWISler Breakdown: Fraud in the Heart of Sarasota!
The rules regarding how Sarasota County signs contracts are about to get a steroid injection after a true-blue case of good ol' fashioned hometown fraud was unearthed this month. The icing on the cake is that the perpetrator, one Mr. Rodney Jones, was actually sued by a local contractor back in 2005 for recommending that a $3.1 million hauling contract to clean up Hurricane Charlie's mess go to his long-time buddy's Ohio-based company, National Pipe Services, rather than our hometown boy Todd Balsinger's company, T-Scott Services – a move that Balsinger says put T-Scott out of business.
Of course, all of Balsinger's cries of shady dealings fell on deaf ears at the time. But it's now come to light that Jones's conflicting interests were well-known by his direct supervisors for years and completely ignored. In fact, after overseeing National Pipe's contracts for two years, Jones actually left the county to work for the company, only to return to Sarasota five months later to continue overseeing his most recent employer's work progress. The only person to raise an eyebrow was Balsinger, as he watched National Pipe work through $300 mil in hurricane–related contracts while he waited by the phone, with nothing but a $50,000 legal bill to pay at the end of his efforts.
Sarasota County continued to give National Pipe steady work, so much so that they actually set up shop in Manatee County with a Palmetto-based affiliate in January 2006, and worked off our contracts all the way up until this past December.
Unfortunately for Rodney, karma can be a real bitch. And it showed up to bite him in the ass on March 20 when he was arrested and charged with accepting $15,000 in illegal goodies from Chaz Equipment Company, whose contracts he oversaw for Sarasota County until they fired him upon learning of this very scandal. Come on, guys. It was only some hotel stays and a few NASCAR races…
Either way, now that the cat's out of the bag someone's head has to roll. And County Administrator Jim Ley is attempting to smooth over all the corruption that's been going on under his nose by cracking the whip on the county's purchasing practices and ordering a thorough audit of the county books to be completed by the nonprofit National Institute of Governmental Purchasing, with results expected in late May.
In the meantime, Ley has made some adjustments to our purchasing department procedures – effective immediately. These include limiting so-called "piggyback" contracts to only a select list of products and excluding them from services, all "sole source" contracts must now be approved by Chief Financial Planning Officer Jeff Seward and Deputy County Administrator Dave Bullock, and the time period required for public review and comment of contracts will be extended.
These are only a few of the new measures being implemented, and there are sure to be a few more when the audit comes back next month. Let's just hope the $90,000 we're coughing up for the review isn't the least of our losses resulting from Jones' backdoor dealings. I guess we'll find out when the full damage report is unveiled…