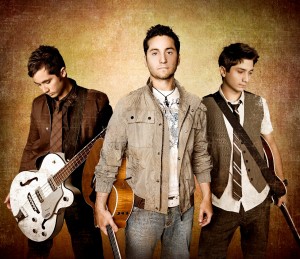 Published May 27, 2010
"All We Have Left" by Boyce Avenue will be available on iTunes and Amazon.com June 15.
It's no secret that the Internet has changed how the music industry operates. Bands can now do most of the duties formerly reserved for major record labels — promoting, booking, recording and distributing — right from their laptop. But very few bands in this modern age have managed to completely flip the script quite like Boyce Avenue.
Sarasota brothers Alejandro (lead vocals, guitar, piano), Fabian (guitar, vocals) and Daniel Manzano (bass, percussion, vocals) took turns going through the Southside to Pineview to University of Florida line of schooling. After all graduated and eventually reconnected back home, they decided to start a band, naming it after the location of their childhood home on Boyce Street. But instead of following the usual routine of getting music out to the masses, peddling poorly produced demo CDs at sparsely attended local live performances, they just went straight for a worldwide audience. Thanks to some unique cover song variations and a few viral videos, they soon captured it.
In late 2007, they started posting acoustic versions of modern pop hits from across the musical spectrum on YouTube. Rihanna's "Umbrella" was the first to take off. "The song was enormous at the time and when people would search for it they would see this white kid sitting there with an acoustic guitar," says Alejandro. "What we realized with the comments is that people were clicking perhaps out of curiosity but they were staying because they felt emotionally connected to the version. That became kind of the process for everything we did. We'd post a video and the shock value of it drew people in, but the musicality of it kept them around."
Over the next two years, videos for songs like Carrie Underwood's "So Small," Justin Timberlake's "LoveStoned," and Coldplay's "Viva la Vida" garnered a colossal amount of hits. The band's YouTube channel has now become one of the most frequented in the world, with over 175 million views and nearly 300,000 subscribers.
As their global audience exploded, Boyce Avenue hit the studio to self-produce their debut full-length album. They started directing their legion of online fans to their MySpace page to sample their brand of pop-rock original tunes. "We were like the number one or number two unsigned artist in Florida on MySpace back when MySpace meant something," says Alejandro.
By mid 2008, major record labels came knocking. The band was courted via MySpace messages by massive record companies like Universal Republic, Epic, Capitol, Atlantic, RCA and Mercury, all of which they turned down. "We knew that we still had a lot left that we wanted to do on our own," say Alejandro. "We still had a lot to learn before we took that step, before we truly felt like it was a partnership. So it was a, 'let's keep in touch,' sort of thing because we knew we would need them later when it got bigger."
Boyce Avenue's proving ground was New York City. Instead of inviting record company reps to their home turf, as customary, the band decided to impress prospecting labels in January 2009 by unveiling the online marketing juggernaut they had created with a showcase concert at NYC's Mercury Lounge. They had never performed in the state of New York, the show was at 7 p.m. on a Monday, the weather was near blizzard conditions, pre-sale tickets were not available and they had less than a month to promote it. The show sold out with hundreds being turned away at the door.
"It was on the basis of that show that we knew that touring wise we were ready to tackle he U.S.," says Alejandro. "Labels and other people don't understand the Internet aspect," adds Daniel. "They want to know how it translates to real world things. That was just one way of showing that it does. These are real bodies, not just clicks or views or numbers. It was all the worst conditions and it was still a hugely successful show. That's when we knew something was bubbling."
After being contacted by a prominent promoter in the Philippines, the band started researching their online demographics and realized that they had a remarkably high number of online views in the island nation. They booked a headlining tour in the country and headed over. An estimated 25,000 fans showed up over the four performances. A YouTube compilation video of the concert series chronicles the Beatle-mania-style pandemonium, complete with a Police escorted motorcade. "It was an emotional moment when we stepped on stage for our first show in the Philippines in Cebu," says Daniel. "It was like deafening crazy screaming, like something you'd associate with Michael Jackson. It was a four-story mall and barricades of men holding people back."
The band returned home on a mission, quickly booking a string of shows and hitting the road for their first tour of the states. They sold out or neared capacity at every venue they stepped in. By fall of 2009 they embarked on their first European tour, packing clubs in France, Germany and the United Kingdom.
Just before returning to the Philippines in early 2010 to dazzle another 18,000 spectators over two performances and another successful European tour following that, the band had wrapped up the recording of their debut full-length, a 13-track mix of mainstream rock and emotional balladry titled All We Have Left. The achievement was substantial for the brothers, as each member filled a dual role over the course of their self-produced music project: Alejandro taking the lead in music composition, Fabian covering graphic design and website management, and Daniel acting as the band's liaison for business relations.
They planned to release the album through their own label, 3 Peace Records, keeping with their DIY rock star-making formula. "100 percent written by us, 100 percent financed by us, 100 percent produced by us," Daniel says of the album that took him and his brothers nearly three years to complete. "So it's a very intimate, personal project." The sweat equity that had been sinked into the album meant the boys had a big decision when Universal Republic came ringing once again. This time they chose to sign on. "We were literally about a month or two from our digital release and about four months away from our physical release when the label approached us," recalls Daniel. "When they did we wanted to step back and release a little later. We have the Internet marketing set up so we didn't need a label for that. What we needed was one of the strongest labels at radio in the nation. And Universal Republic is one of the best."
One of the biggest sticking points was the band's continuing to have full hands-on control of every aspect of the project. The label was happy to comply. "We thought that we'd have to fight that fight about re-recording songs and everything," says Daniel, "but we had moved the ball so far and they believed in the music so much that they took the whole thing exactly as it was."
All We Have Left will be released jointly through Universal Republic and 3 Peace Records on iTunes and Amazon.com June 15 with the physical CD release coming in a few months. Boyce Avenue will embark on their second U.S. tour this summer with a date at Orlando's Backbooth on July 2.
The brothers feel good about their decision and plan to see Boyce Avenue continue its meteoric rise to stardom. "There's an education process that we had to deal with that I would never trade for anything," says Alejandro. "It was a better use of our time and money to do personal videos and record a high quality album than it was to get in a van, leave our families behind and play for 20 people a night. The Internet has been great and we're going to continue to use that, but now we're coupling the nontraditional marketing with the traditional marketing. The only way you can flip it like we did is if you do it very smart. And work your butt off."
PHOTO COURTESY OF BOYCE AVENUE