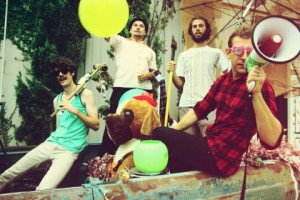 Published July 26, 2011
(Photo: Scott Braun)
In the Green Room with Cats in the Basement
Fun fact: "Herb Crust" by Cats in the Basement was named after a line frontman Greg Ferris spotted on a box of Hot Pockets.
While attending Ringling College, aspiring artist and musician Greg Ferris started writing songs under the pseudonym Cats in the Basement — derived from the feral cats around his house whose meows would occasionally find their way onto his recordings. The project took a backseat after Ferris joined locals Mike and Erin Murphy to form The Equines, in which Ferris plays xylophone, and to eventually launch Sarasota indie label Finch House Records.
Then last year, after being discovered at an Equines show by Neil Fridd of NYC-based performance art party band Terror Pigeon Dance Revolt (signed to David Byrne's label Luaka Bop), the two hit it off and Fridd asked Ferris join TPDR on tour. The experience brought Ferris to festival stages across the country, including the Tour de Fat Festivals in Portland and Seattle and SXSW in Austin, landing him on bills with big name acts like The Black Keys, Paul Simon, Cee-Lo, Big Boi and indie super-group Mister Heavenly.
Ferris even had the opportunity to hop on stage with one of his biggest musical heroes, The Flaming Lips, while performing at The Hangout Festival in Gulf Shores with Halifax's Rich Aucoin. Just to give you an idea of the unorthodox spontaneity of this species of band, Aucoin fits his entire show into a backpack, had 500 guest musicians on his album, and had no qualms about setting up at The Blue Owl not long after opening for Foo Fighters.
"That (tour) was definitely a big influence," recalls Ferris. "When I first started playing music it was real personal and kind of sad. But once I started playing fun shows I got such a different response. People would come up and say, 'That was the most fun I've ever had.'"
Taking mental notes on the road with TPDR and Aucoin, Ferris realized that these types of experimental improv shows could be vastly hit or miss depending on the crowd and location. So he started trying out different tricks to see how audiences would respond. "Doing each show was kind of like a test tube with different results," he says, "so I kind of weened out what works."
The fruits of this weening can now be found in a renewed and refreshed Cats in the Basement, complete with a rotating cast of costumed dancers, cue-card sing-a-longs, a glow-in-the-dark strobing mannequin head on a stick, and any other hair-brained ideas Ferris can muster.
With their recorded compositions varying wildly from the corresponding live performances, one can never be too sure exactly what they'll encounter at a Cats in the Basement show. As of now Equines drummer Mike Murphy and bassist Brian Beardsley have been filling their respective positions for Cats shows, but Ferris has been laying most of his tracks down in a solitary manner using a midi keyboard and whatever instruments happen to be sitting in front of him.
Ferris's self-professed "affinity for violent things done sweetly" leads to an odd marriage between his lyrics and the dance-happy music that surrounds them. A prime example is the Cats song featured on this year's Noise Ordinance 2 local music compilation, "Spy Cat", which invokes the joy a lovely bike ride on a warm summer day accompanied by the line, "I want to collect the sunshine / wring it from your eyes and break your neck / like a pack of candy cigarettes." Much like Foster the People's current hit "Pumped up Kicks", you know there's something dark in there, but you can't keep from smiling anyway.
"I think everyone's done with being angry in music," explains Ferris. "Any resistance is just people not quite at the curve… It's a reaction against sitting and listening. You don't want to go out and be attentive. You want to have fun."
Cats in the Basement continues on their playful parade of poppy performance art this Thursday, July 28 at Word of Mouth downtown. They will also be playing Summer Jam 2011 at New World Brewery on August 27, and have invited Rich Aucoin back to Sarasota that same week to play a show in a full swimming pool using waterproof microphones and a floating stage.
"We're still looking for the perfect pool," says Ferris.
Cats in the Basement plans to release their debut EP "The Internet on Tape" to support their September 2011 national tour with The Equines. Fans can download tracks for free and get more information by visiting catsintheblog.tumblr.com.