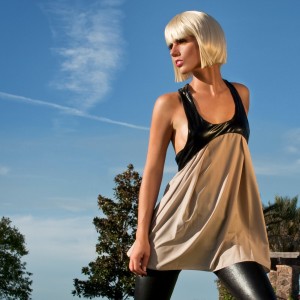 Published October 20, 2010
Industry w/designs from E Marie by Eliza Torres and music by DJ RusDeep
8 p.m.-midnight Sat., Oct. 23, The HuB, 1421 Boulevard of the Arts, Sarasota, 586-0681 or matthewholler.com,matthewholler.blogspot.com, $5.
The coveted label of "arts destination" is something that Sarasota has boasted for quite some time. But there are a few artistic avenues our fair coastal city has yet to venture down — at least far enough to merit a reputation. One creative arena that has long lagged behind the more popular visual and performing arts, yet could provide a huge economic boost to the area, is the fashion world, with it's clique of affluent, young, uber-chic entrepreneurs.
Thankfully, there are still a few students in this kinda-quasi-college town that are passionate about seeing the Suncoast truly live up to its "art-infused community" claim, and become a fully developed beacon of creativity. One such student is senior Ringlingphotography major Matthew Holler.
To complete his senior year requirements, Holler had the choice of doing an internship or creating a "professional project," an event where students work with members of the community in an effort to forward the city's artistic vision. Holler chose the latter, making the fashion industry his primary focus. "There's not much of an industry here yet," says Holler, "but I think that there's a possibility for it. We pride ourselves on being an art community, but how many beach photos and paintings of birds can we have? I think it really needs that other element in order to grow into a larger industry."
It's hard to think of a local group of people that have shown more interest in growing creative elements of the community than those at the HuB. That's why Holler saw the Rosemary District-based business incubator as a natural partner to help produceIndustry, an avant-garde soiree of style featuring an exhibition of Holler's fashion photography and a full-scale runway show, with spins by DJ RusDeep, a cash bar from Mattison's, and Miss Petite Coquette of Sarasota's newly-formed Black Diamond Burlesque Troupe on hand to warm up the catwalk.
The show will debut seven new couture body suits designed by Bradenton's Eliza Torres — the latest offerings from her E Marie clothing line. "Whenever I wanted to do a shoot, she was there," Holler says of Torres. "She would design me special pieces just to do a shoot for. It's kind of my way to thank her for doing all that for free for the past three or four years… I've kind of realized all of a sudden that these closeted couture designers are just coming out of the woodwork in Sarasota, and they've never had an opportunity to do it before. I want this show to be a catalyst for something and get people's attention."
A 10-year Suncoast resident and graduate of Venice High, Holler moved to Sarasota a year and a half ago and says he's noticed a growing demand for vogue fashion in the area recently: "There's a renaissance brewing here for the arts. We've always had that name, but I think it's really about to take off as contemporary, as opposed to what it has been… It's been lacking real couture fashion — hand-sown with actual time and effort and design. Boutique shows are great, but we need another element to make it a little more about art."
Holler admits that of the handful of photography majors at Ringling with aspirations of entering the fashion industry, almost all look to kick off their careers in metropolitan areas with established fashion infrastructures. But Holler believes in Sarasota's potential to develop a strong couture scene. "It really is for me to try and build an industry here for fashion, because I want to be able to stay here and work after graduation," he says. "Instead of just moving where it would be easier to start something, I think it's important to try and make something happen where you are, because it's benefitting the city."
Don't plan on Industry being Holler's final attempt at a more chic and trendy Sarasota. He's already initiated talks with a number of local clothing designers and arts organizations about the possibility of Sarasota's first fashion week in 2011. "A lot of us have connections with designers in New York and across the world, really," says Holler. "We have Vinyl Music Festival. We have the Film Festival. Why couldn't we have fashion week? … I want to be able to prove to people that we can do it."