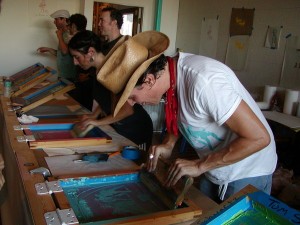 Aug. 3, 2009
S/ART/Q Live Screen-Printing Event
5:30-10:30 p.m. Fri., Aug. 7, The Hub, 1421 Boulevard of the Arts, Sarasota, $5 per screened item, sartq.com.
It started with an open call to artists back in December, when Ringling College fine art graduates Tim Jaeger and Joseph Arnegger saw a lack of collaboration and cohesiveness in the arts community. They wanted to create a group of visual artists, from various media, to join together and discuss the current state and role of the arts in Sarasota. Fourteen of Sarasota County's finest painters, sculptors and photographers responded. S/ART/Q was born.
"These are not emerging artists," says Jaeger. "These are all mid-career and professional artists. These are people that have shown nationally or internationally, and have decided to live in Sarasota County." The art credentials of the group are impressive, the scope of their vision even more so. They aim to set the standard for culture in Sarasota.
"The lowest common denominator in the visual arts is no longer acceptable," says Jaeger. "S/ART/Q is the definition of the standard and the answer to the contemporary arts scene in Sarasota. The standard now, it's a very, very low bar. It's a silhouette of David without the penis. Sarasota shouldn't be an artist's destination. It should be a cultural destination. We're here to formulate a group to provide that standard for the community, because we believe in Sarasota. Period. That's it."
The group has support from The Hub in the Rosemary District and uses the space for their biweekly meetings; the building will also host S/ART/Q's first community event.
A suggestion from Sabrina Small led the group to join with Clothesline owner Austin Kowal to put on a live screen-printing party and exhibition this Friday. Each artist has created a special design that people can have screen-printed onto any clothing item or textile they choose for only $5 a print. The artists will all have a piece of work displayed, many corresponding to their T-shirt design, and there will be activities for the kids, music, local food vendors and a cash bar.
This event and a winter exhibition are S/ART/Q's short-term goals, but long-term goals include a program to attract talented creative individuals to Sarasota by helping them find affordable housing and health care. The group plans to become an influence in local politics and a vehicle for bringing creative organizations of all types to work in tandem toward a united arts community.
Member Brandon Maupin, a graduate of the Cincinnati Art Academy, is an abstract painter who sees the group as a tool for artists to make a living off their love. "I'm anxious to connect with a market that's for my work," he says. "I was working construction for a while there. I'm a stay-at-home dad now, so I'm able to focus on my art. I'm just looking for a chance to find the market."
Dave Piurek, a conservation technication and gilding expert at Ringling Museum, sees the group as a bonding of like minds and purposes. "I think I was one of the last ones to join, but I'm so glad I did," he says. "Joseph really wanted me in there and I was flattered. At first I thought, 'I don't know if I can do this, or I'm not at that level, or I can't provide the time.' But then I understood it, and I'm very happy I said, 'Yes.' These meetings are pretty great; the energy that's in there is all positive. You leave there and you're kind of on fire. I think the whole group is."
Ringling graduate Daniel Miller is a painter, printmaker and web developer who believes S/ART/Q will enrich and diversify the community. "It's going to provide an outlet that people are yearning for in this town," he says. "The current group is going to open up the community for future prospects to move here and provide inspiration to artists who live here. We need to get away from seashells and dolphins."