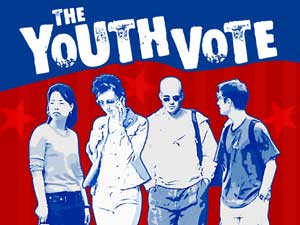 Published Feb. 8, 2011
TWISler Update: Examining the youth vote… or lack thereof
When it comes to local elections, that whole "voting" thing hasn't always been our strong suit. We seem to have a problem getting our citizenry to exercise their civic duty whenever it comes time to elect the people that vote on the laws that directly effect our daily everyday lives. Go figure! And nobody has proven harder to get off the couch and into the voting booth than the youth of our fair city.
Just to give you an idea of the scope of our apathy, we'll look at the turnout from 2009's At-Large City Commission election among registered voters age 40 and under. (You might want to check out TWISler's Breakdown of the City Commission Candidates and Districts to get the full context.) In the case of District 2, the "rich" district comprising St. Armands, Bird Key and most of the Bayfront, there were 3,176 youngsters registered and only 109 of them cast a ballot — a 3.4% showing. As for District 3, the "middle class" district spreading out east and south of downtown, 2,983 youthful voters on the rolls and only 61 showed up for a big 2% turnout. And then there's District 1, the "poor" district housing Newtown and Rosemary, which out of it's 3,370 voters under 40 only managed to inspire 26 of them to hit up the polls — a whopping 0.7% of registrants.
If you're a strapping young 35-year-old candidate like the one we've endorsed for District 2 this year, Paul Caragiulo, those numbers are bloodcurdlingly scary. Caragiulo says that of the 14,053 people in his district registered for the upcoming March 8 District elections, 2,926 of them are 40 and under (about 21%) and he's going to need every single one of them wearing an "I Voted" sticker on March 9 if he wants to take over the District 2 seat.
But at least Caragiulo has the reassurance that 3.4% of them know where the polling station is. The candidate we've endorsed for District 1, Richard Dorfman, has a helluva lot more work cut out for him. It takes a pretty rigorous regimen of laziness to pull a voter turnout under 1%, and an international sports agent and avid art collector living in Alinari could have a little bit of trouble trying to connect with all those minority 20 and 30-somethings hanging out on MLK Boulevard at night.
That's why Dorfman's best bet is to engage the young, creative types speckled throughout the Rosemary and Gillespie areas. Think about how many artists there probably were last election sitting in their little hippie house somewhere in the Rosemary and just totally forgot about getting to the polls because they were too excited about catching the new Daily Show — the one they had forgot to watch the night before. That's the only problem with "creatives" — they tend to get distracted easily. Let's try real hard not to forget this time around young people of District 1. We need you awake, alert and informed so we can get out the youth vote like it's 2008.
There's a lot more factors at play for Diana Hamilton, the candidate we've endorsed for District 3. This area is much more of a mixed bag and the demographics are far more varied. But we do feel confident knowing that she really only has one competitor, former Sherriff's Deputy Shannon Snyder, because the choo-choo loving, Mr. Magoo impersonating, "anti-growth" candidate Pete Theisen just doesn't seem to be living in the same city as the rest of us. Hamilton might be wise to show plenty of love to neighborhood groups and the more family-oriented, young professional voters. If she can turn that 2% youth vote into 20%, she'll have a much better shot at becoming the Queen of District 3.