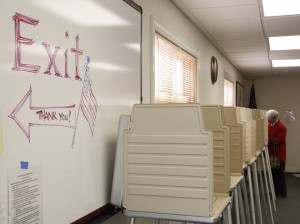 Published March 1, 2011
TWISler Update: Sarasota's Exit Poll Report Card
Okey-Dokey folks, now that the TWISler has enlightened you on who us Sarasotans are as a people and how the wee tiniest tikes among us (voters aged four decades or fewer…) didn't manage to earn a whole lot of participation points in our the last city commission battle royale. Now, my dear students, the time has come to examine our performance as a whole over the past few semesters. So sit down here, Sarasota lil' buddy, and let us go over our report card as one big happy family. If we ever hope to become skilled in the ways of the voting lever, it's important to look at the contests we view as worthy of lever pulling, the color of levers we prefer to pull, and why in the dickens we pull 'em like that.
Just like any other red-blooded American voter block, we tend to get more excited about the matches with the big name fighters — the ones that have all the announcers on all the big cable news channels arguing about flag-pins and lipstick all the time. A look at the numbers shows we actually don't do too shabby when it comes time to show up for the big games. Back in the Great General Election of 2008, a big bad 80% of our registrants stormed the polls to split our population clean in half, with our current El Presidente being denied Sarasota's terrorist fist bump of approval by only 0.1%, or about 200 votes, making The Maverick the only republican presidential candidate in history to almost lose our city's affection. But we kept to protocol for the U.S. Rep. Race, sending our very own conservative poster child, Mr. "Ya' know what I mean?" Vern Buchanan, back up to Washington with 53.3% of our blessings.
We didn't do quite as stellar on our midterm exam last November, with only 56% of our trusty citizenry braving the elements to fulfill their civic duty. We definitely dawned our crimson pride in this round, sending Marco "Tiny Tea Bags" Rubio to the U.S. Senate with 46% of our nods, topping Crist's 40% and Meek's 12%, and propelling Rick "Hefty Tea Bags" Scott toward Tallahassee with just over half of us in support. And, of course, we had to give ol' Vern another couple years — this time with 67% of us boarding the Buchanan Express.
But the curriculum for Sarasota Voting 101 is a bit more demanding than in other municipalities, since we up and hold our city elections in March instead of November along with the big boys. I guess us city folk would rather pay for an extra election than bare the thought of stuffing our local little bundles of joy way down at the bottom of a big scary statewide ballet. Of course, that also means our hometown heroes usually don't get much lovin' in the voting booth. I mean, who wants to throw a lever pulling party of one when you know the real Spring Break action is strutting across the stage at Gilligan's in a sparkly string bikini. The truth is there ain't no ifs, ands or buts about it — if local names shared the same ballot with the "As Seen on TV" all-stars, there would be a sharp increase in the number of holes punched for our city's finest.
The reason for our awkward third election leg stems from a nasty little habit The TWISler has touched on in previous lessons — namely our city's head-over-heals love affair with forming groups. If we didn't give our smallest of city concerns as much weight as humanly possible, then all our groups, sub-groups, and sub-divisional sub-sets of sub-groups couldn't enjoy all that handy dandy political power they now have at their fingertips.
And if you thought our councils, committees, associations and alliances were able to influence 2009's At-Large City Commission Smack Down, just wait until you see the brazen broadsword of bribery they'll be brandishing in next week's March 8 District duals. You see, the smaller the area candidates have to canvass, the less campaign cash they have to cough up, allowing less monetarily endowed politico wanna-bes more of a fighting chance at earning city commission gold than they would have in a citywide election. That also allows the itty bittyist of entities the heaviest of hands to play for the puniest of pots. "So, why is it so, Mr. TWISler?" you ask. Well, you're certainly not the first to enquire my dear pupils.
This particular poker game began, not surprisingly, with a clever play of the race card. Back in 1985, a lawsuit filed by Newtown residents and the NAACP successfully broke the up-until-then perpetually pasty city commission board into two At-Large seats and three District seats, resulting in the board's first brother-in-chief with the election Fredd "Glossie" Atkins. As the prominent player behind the restructuring effort, Glossie promptly followed his victory by plopping his keyster right down in Newtown's shiny new district seat, where he's remained at the helm ever since. That is, at least, until next week's commission campaign combat operations commence. That's right, folks. After 15 years, Glossie is finally throwing in his hat, leaving the District 1 position ripe for the pickin', and the same goes for District 3 due to current Mayor Kelly Kirschner's similar decision for departure.
For more thorough election analysis, you can check out TWISler's commission candidate breakdown. But if that whole "being informed" thing doesn't tickle your fancy, we hope you'll at least heed these brief words of wisdom: Sarasota's District elections put more muscle behind the everyman's individual vote than any other election we hold. The three public servants we ultimately crown on March 8 will most likely be selected by a mere handful of their District's faithful followers, and will in turn takeover the reigns of our city and effectively set our course toward progress for the unforeseeable future. The only way to assure victory for the supporters of our "Creative Class" agenda, is to double our last city election's 21% voter turnout. Early voting is open everyday through March 6. Absentee ballots are only a phone call away. Let's make sure we all put our two cents in this time around. Get yo' ass in that booth!