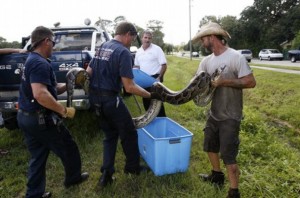 Published Sept. 29, 2009
(Photo courtesy naplesnews.com)
Justin Matthews' staged capture of a 14-foot python landed him in hot water with local media and the authorities, but he's not apologizing
For three years Justin Matthews has given daily educational wildlife presentations at Mixon Fruit Farms; the 47-year-old owner of Matthews Wildlife Rescue uses the enclosures at Mixon to house some of his rescued animals that would have difficulty returning to the wild. But the bond goes much deeper.
Matthews slept in the pen with Bucky the deer for two weeks: "Me and this deer didn't get along like this until we slept together." He also plays Bucky action flicks to get him used to loud noises: "Right now he's watching Bruce Willis' Die Hard." Bandit the raccoon isn't quite as affectionate: "He's bit me 12 times since I had him." But Fancy the opossum is a snuggle bug: "She's the only opossum I've ever seen that actually cuddles. My brother tried and he got six stitches in his neck. But I think he had fear, and fear has a scent. Animals pick up on it."
Fear of animals is not something that Matthews possesses. Whether it's Cosmo the great horned owl, Tank the tortoise or Wally the eight-foot alligator, Matthews treats them all like puppies and kittens.
One thing Matthews is afraid of, however, is Burmese Pythons. But he's not afraid for his personal safety; he's scared for the residents of Florida.
"These pythons are a big problem," the Bradenton native says. "The reason these guys can thrive in the state of Florida is, once a female breeds with a male, they store sperm, and she can lay eggs every year. They lay up to 120 eggs and they grow about seven feet a year if they're fed really good."
Burmese Pythons have become a growing concern due to the havoc they wreak on Florida's natural ecosystem. They are native to Southeast Asia, but some estimate 150,000 roam free in Florida, mostly because pet owners abandon them or let them escape. Matthews has rescued or removed hundreds of snakes, but the Burmese are always the most disturbing. How many has he caught? "Four total," he says, "plus I staged the capture of one."
Hold on. What was that last part?
That's right. Matthews is the guy who made international news when he planted "Sweetie" — the 14-foot wicked-mean python he plays with in his backyard — in a two-foot-wide, 60-foot-long tunnel, and then called the news trucks over to watch him push it out the other end.
Matthews says he pulled the stunt in order to bring attention to Florida's python problem and expose an alternative for people who are thinking of releasing their unwanted snakes into the wild. "You hear about all these laws that are changing with Burmese Pythons and I think it scares some people into letting them go illegally," he says. "I wanted to bring awareness and let people know that, 'Hey, you can give Justin a call and he'll come by and pick up your pythons, no questions asked.' We can work something out so they're not going to be cited, they're not going to be fined."
The staging succeeded in capturing headlines, but it also landed Matthews in some hot water. A number of charges may be filed against Matthews for the incident, including a misdemeanor for the misuse of 911 emergency services and another for not having a microchip implanted in the snake, which has been required under Florida law since last year. A full list of charges is expected to be released by the state attorney's office in coming weeks. We'll post that info at CLSarasota.com as soon as it becomes available.
Matthews defends his actions. The python was originally captured in North Port by trapper Vernon Yates after one of Yates' friends let it loose. Yates then sold it to Southeast Reptile Exchange in Tampa, where Matthews purchased the snake. "The person that owned the snake and let it get away or released it — have they ever been charged? I've never seen anything in the newspaper about, 'Why didn't Vernon Yates get this thing microchipped?' Why was Southeast Reptiles allowed to sell it to me without a microchip in it?"
And while Matthews intended to gain media attention with his stunt, he says some of the criticism the Sarasota Herald-Tribune leveled at him was unfair. "Tom Lyons, he was the worst. He threw me under the bus so bad and stated things that weren't true. It was a cussing match between me and him on the phone for about 15 minutes," he says, laughing. "A lot of people out there think, 'He just wants to be in the newspaper.' If you're educating the public on wildlife, you definitely want to use the newspaper. It's ridiculous to say, 'He's just drawing attention to himself.' Of course I am. I'm in wildlife rescue."
The python fiasco also brought attention from national TV producers. Pilgrim Productions wanted him to stage another python capture, kill the python, skin it and then show it being served in a five-star restaurant in Fort Lauderdale. "I said, 'I don't think so.' I'm already involved in something controversial."
Zoo Productions, who Matthews is still in talks with, is interested in him playing an animal expert who regulates arguments between neighbors with animal disputes. "I said, 'Have you heard the story about my hybrid wolves at home and how my neighbors hate me?' He said, 'No.' I said, 'Do you want like a redneck-looking guy or something?' He said, 'I'm glad you said it so I didn't have to. They think you look very interesting and they think you're a good actor. That staging was excellent.'"
Matthews was flattered by the offers, but was hoping for a different pitch. He would love to host a Croc Hunter-style wildlife show based in Florida. "Everybody compares me: 'He's a wannabe; he's a this; he's a that.' I'm Justin. I'm a Florida cracker. I was born and raised right in this town. The reason I got into wildlife was because my dad was a poacher. I've seen a lot of killing. I've seen so much killing I couldn't stand it. I guess that's a good thing that people compare you to someone like him, the Crocodile Hunter, but I'm no wannabe."