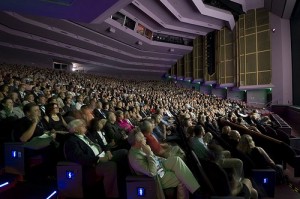 Published April 13, 2011
TWISler Breakdown: Sarasota Film Fest Fabulousness
The swankiest Sarasotans among us have been busily rubbing elbows with some of Hollywood's finest actors, directors and producers at this past week's Sarasota Film Festival events. The red carpet was rolled out in front of the Opera House last Friday for the Opening Night Party featuring a screening of "Page One: A Year Inside the New York Times," a documentary about the slow and inevitable death of print media. In attendance along with Director Andrew Rossi was New York Times Media Desk reporters David Carr and Brian Stelter, providing living proof that professional journalists still actually roam the Earth and survive by selling stacks of dead trees filled with ink.
The opening night action continued all over the Michael's on East complex at the After Party, where SFF joined forces with Vinyl Music Festival to present "Hollywood & Vinyl," featuring ass-shaking sets by DJs Honorebel and Cosmo that had heads ringing well into the wee hours of the morning.
But if you're still recovering from last week's festivities, it's time to snap out of that film and vinyl-induced stupor of yours and get back in the game. For a little motivation, the TWISler would like remind you that we still have one more weekend to partake in Sarasota's 13th year of silver screen bliss.
For starters, you can sit down for a lunch date at noon today with Academy Award-winning actress Geena Davis, who will be claiming SFF and Gulf Coast Chapter of U.N. Women's inaugural Impact Award for her righteous gender-equalizing work at the Geena Davis Institute on Gender in Media. Davis certainly hit it out of the park for strong women worldwide going toe-to-toe with Forrest Gump in "A League of Their Own," and she will discuss her continuing fight against gender stereotyping in media during her "In Conversation" event at 1 p.m. on Saturday in the Sarasota High Auditorium. Just make sure you don't trick her into saying "Beetlejuice" three times. That guy can really derail a healthy discussion.
Tonight at 6 p.m. also kicks off the reincarnated version of SFF's most star-studded annual shindig. The traditional "Night of a Thousand Stars" is getting a makeover this year with a move to the Ritz-Carlton Member Beach Club, and in true diva fashion will now be going by an alter-ego: "Night under a Thousand Stars, Beach Edition." Ditch your Prada shoes, roll up those Armani slacks, and get your feet sandy with a Siesta Key Rum cocktail in hand. We're gonna show ya how we do Film Fests – Sarasota-style. Complete with fireworks display.
Saturday brings a return to the Opera House for the Filmmaker Tribute and Awards Ceremony, with the red carpet procession starting a 6 p.m. The event will give additional props to Geena Davis's Impact Award nod, as well as honor Sarah Green with the Producer's Award for her stellar indie film producing career and 60-year-plus box office stud Christopher Plummer with the Cinema Master Award. Then it's just a short walk to Saturday's After Party at Ceviche, scheduled to start heating up just before midnight.
But all you die-hard Christopher Plummer fans better save some energy for Sunday. The living legend, fresh off earning his first Academy Award nomination for 2010's "The Last Station", will be live and in color at the Opera House for his own "In Conversation" event at noon. And you can also see the veteran in action with a ticket to his new film "Beginners," which just happens to be SFF's Closing Night Film with 5 and 7:30 p.m. offerings at Hollywood 20.
If you're just looking to catch a locally filmed flick to see how many locations you can spot. Your last two chances for Steve Tatone's contemporary musical "Beautiful Noise" are 6 p.m. Saturday and 2 p.m. Sunday, both at Hollywood 20. But we suggest checking out the full schedule at sarasotafilmfestival.com. We'd hate for you to be left out of the loop when all your friends are talking about the "must-see" films you failed to see.